How many times did I repeat those words (To the sea with these mainlanders!)... Then I came to know the working class of an industrial city and I understood the real meaning of those things of Marx's that I had read before out of intellectual curiosity. Thus I became passionate about life, the struggle, the working class.(Antonio Gramsci, 6 March 1924)
I do not pretend that historical logic is always as rigorous or as self-aware as it should be; nor do I pretend that our practice very often coincides with our statements. I'm just claiming that this logic exists. And that we're not all just breast-fed children.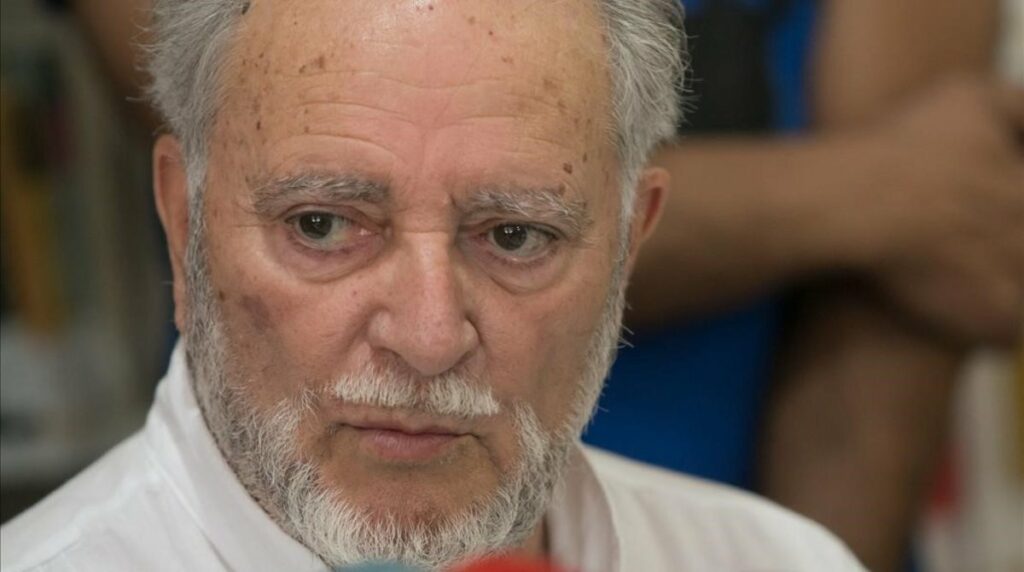 Many deaths, too many. So much loss burns, and the pain piles up. Once again, death has taken flight early.
I'm trying to speak with unused words.
To me, Julio Anguita will be (already is) a classic of the transformative socialist thought of the 20th century and of these first decades of the 21st. And not only for Spanish citizens. With time we will be more aware of the greatness, of the enormous importance (political-philosophical) of this great fighter, of this great thinker, of this great speaker. Among the best that the democratic communist culture has generated in all its history.
I began to understand the political (and cultural!) importance of Julio Anguita, many, many years ago, in a long conversation - which I keep in detail in my memory - with a friend of his, my teacher, Francisco Fernández Buey (I interviewed Anguita on April 14, 2012 and it was his idea, knowing that Paco was sick, to dedicate the interview to the author of Marx (without isms).
Since then, I have tried to follow his reflections, his doing, his suggestions, his proposals. Even his living, his being there. We have written to each other on occasion; we have greeted each other in six or seven meetings. Beyond agreements or disagreements (few of the latter), he was always respectful. He never spoke from a pulpit or any inaccessible throne. Nor from a dogmatic, Talmudic and indisputable conception of political reason.
This is not the moment to take stock of his political-philosophical trajectory or of his complex, not at all one-dimensional, being-in-the-world. Nor is it a matter of remembering the countless lists of insults and disqualifications that the right (and not just the far-right) launched against him, especially in the years when he was general coordinator of IU1 and general secretary of the PCE (Communist Party of Spain).
It is time to remember that Anguita, a good Machadian man (in time, like the poet, we will remember him, without contradiction, as Don Julio and as comrade Anguita), was an honest, thorough man, a man of principle, always in the front line of combat, of resistance; an indispensable one: Brecht's poem takes on new meanings in his case; incorruptible, a la Robespierre; a leader who listened, taught and learned; a communist much loved by working people (he knew how to connect with them as I have rarely seen in my life); a politician (in the best sense of the word; his case is an example of this) who always tried to speak clearly, committing himself, without hiding; someone who (as Enrique Olivas Cabanillas has pointed out) knew how to unite like few others, in his words and his actions, ethics and politics; someone who was mocked a thousand times to the point of ignominy for that (so true, so basic, so real and so essential) of "programme, programme and programme" someone who knew (and taught) that socialism, communism is an uninterrupted struggle, not for tomorrow but for today; a scholar who enjoyed reading and studying; an epicurean, a lover of the (good) life (nothing to do with luxury or nonsense); someone so opposed to revolving doors that he returned, modestly, to his work as a high school teacher at the age of 60; a comrade passionate about the reasoned passion of those at the bottom; a democratic communist who grasped well and deeply the dimensions of the three great problems that beset us, already close to the abyss: murderous inequalities, irresponsible climate change and its prolongation, and nuclear weapons and war.
We all remember his "damned wars" (https://cadenaser.com/emisora/2020/05/16/radio_cordoba/1589627860_741718.html), when his son Julio Anguita Parrado died (very young) in the imperial war in Iraq. We have not forgotten, of course not, the hunt and capture designed against him with the malicious lie of Aznar's Izquierda Unida-PP "pincer" . We all remember his uninterrupted struggle for the Third Spanish Republic and for the unity of the Spanish working classes and his criticism, sometimes in minority of only himself (with the opposition even of his own comrades in organization), against the historical practices, the real ones, not the invented ones, of the Catalan bourgeoisie (among the worst of the Hispanic world, he said). In our memory is also imprinted the outstanding role that he played, being older, in the Unique Front, without forgetting his tireless work, without seeking personalism, in the Prometheus Collective.
I forget, I know, a thousand things. The list is endless.
Is there any philosophy we can associate with him? The philosophy of the practice, of course. But thought out with his own head, contributing, not repeating what is known (I myself feel that, sooner rather than later, substantive doctoral theses will be written on his political-philosophical contributions).
Perhaps he took too little care of himself, a heart too open to all. More generosity than his body was able to bear.
A hardworking friend of mine, belonging to the hard working ones, wrote on Saturday morning shortly after his death: "Poor thing. No one like him will ever be born again." It won´t be easy. The philosopher-philologist Joaquín Miras has expressed it this way: "A man of integrity. Probity is the word.". Javier Aguilera said it with these words: "The Spain of Julio. Our friend and President of the Democratic Republic of the Workers has died, the struggle continuous....Comrade Julio, see you at the next secret meeting!! Don't miss it!" Enrique Olivas Cabanillas, as I said, has highlighted an essential knot: "I am writing to you with a spirit damaged by the death of Julio Anguita who exemplified, for many of us, the unity between politics and ethics, which must never be separated if we are not to face the risk, which we suffer, of forgetting the most essential aspects of a culture of the common".
I try to accompany him in his farewell (which will never be an oblivion) with a poem that I know he liked (he was a good reader of poetry as we know) and with a reflection by Manuel Sacristán (which I also know he liked).
The final verses of a poem by another universal Andalusian, Don Luis Cernuda, also take on a new meaning with him because, in his case, that cause that seemed lost with the disappearance of the USSR, made him speak at times in a desert of listeners while so many, so many discovered the "inexhaustible goodness" of a capitalism without bridles that showed its most antidemocratic, most anti-human, most anti-humanist face.:
That that cause seems to be lost,
doesn´t matter at all;
that so many others, pretending faith in it
only attended to themselves,
matters less.
What matters and is enough for us is one's faith.
That is why again today the cause appears to you
like in those days:
noble and so worthy of fighting for it.
And his faith, that faith, he has kept
through the years, defeat,
when everything seems to be betray it.
But that faith, you say, is all that matters.
Thank you, comrade, thank you.
for the example. Thank you
because you tell me/that the man is noble.
It doesn't matter how few of them are:
One, one is enough
as irrefutable witness
of all human nobility.
Manuel Sacristán's note:
That is why it was essential to know that Marxism is not theory, but an attempt at a programme (on a desire), which is sought to be based on criticism (Ballestero) and scientific knowledge. One should not be a Marxist (Marx); the only thing of interest is to decide if one moves, or not, within a tradition that tries to advance, on the crest, between the valley of desire and that of reality, in search of a sea in which both converge
Marxism is not theory, it is an attempt at a programme... He always had that in mind.
On the crest, through the valley of desire and reality, in search of a sea where both end, that is where Julio Anguita went.May the earth be light to you dear companion, dear comrade, dear teacher.. Until victory always
P.S. A speech worth remembering (from 1999): https://www.youtube.com/watch?v=cwuDyhU0FSs
Three of his last interventions (as lucid, clear and didactic as always):
1 Izquierda Unida: United Left which under Julio Anguita's stewardsbip became very influential, even at the national level.
---
Courtesy of
Tlaxcala
Source:
https://rebelion.org/julio-anguita-un-companero-imprescindible-maestro-de-todos-que-fue-en-serio/
Publication date of original article: 17/05/2020
URL of this page :
http://www.tlaxcala-int.org/article.asp?reference=29024