Her victory in 2012 was decided by less than 3,000 votes – making Native Americans, who make up about 5% of the state's population and tend to swing Democratic, a potentially decisive bloc in 2018.
Cramer, an arch-conservative, has like other Republicans in the state argued the law is vital to protect against voter fraud. At a debate last week he suggested there was no discriminatory effect and accused the law's critics of playing "identity politics".
History tells a different story.
North Dakota, the only state in the union that does not require individuals to register before they vote, has prosecuted just one case of voter fraud in decades. According to the Standing Rock tribal council, there has never been a cases of voter fraud in Sioux county, the jurisdiction that covers all of Standing Rock's territory in the state.
Alva Gabe, who has lived in Standing Rock her whole life and voted in every election since 1984, shows her new tribal ID with a street address, which will allow her to vote in North Dakota. Photograph: Dan Koeck/Getty Images for The Guardian
For some the new laws were a further reminder of the state's racist past, in which it legally disenfranchised most Native voters. At the turn of the 20th century North Dakota's constitution gave the right to vote only to "
civilised persons of Indian descent
" who had ended their ties to tribal government. Like the Jim Crow laws of the south, the discrimination was formally ended with the passing of the 1965 Voting Rights Act – a defining achievement of the civil rights movement.
But since a 2013 supreme court decision weakened key provisions of that law, the voting rights of minority groups like Native Americans have come under frequent attack.
Standing at the top of a hill that overlooked Fort Yates, as autumn leaves swirled in the wind, Chase Iron Eyes looked out over his childhood home.
"This history that we have here is not set up to honour us as human beings or honour our right to participate in democracy," he said.
"The government didn't need a physical address to come and steal our children for boarding school. The government didn't need a physical address when it was time for us to be conscripted into their militaries. But now they need a physical address so that we can exercise one of the most basic principles and tenets of a representative democracy."
Like many working to get out the vote, Iron Eyes, a prominent activist and former Democratic congressional candidate, was hopeful the new law would only serve to galvanize voters. But he was acutely aware of the challenge in a place battling with an addiction epidemic and unemployment rates over 60%.
"Every election is such a beast. There's got to be an organized, consistent effort to get our people – disempowered, disenfranchised oppressed people – to give a shit about their destiny. That's a hard thing to do."
Over the two days of door knocking observed by the Guardian, dozens of Standing Rock residents said they had already been out to collect new ID documents. But canvassers were concerned by a few incidents that illustrated the strict requirements now in place.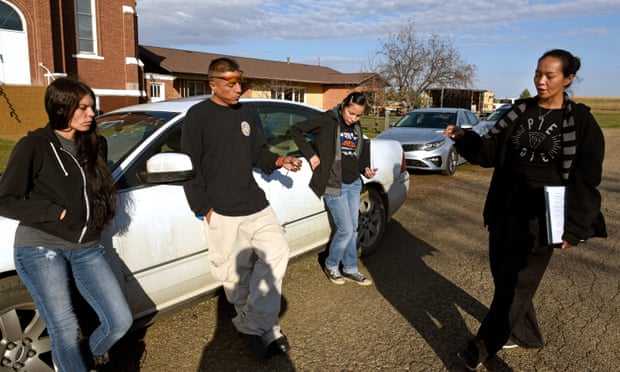 Left to right: Meranda Zupan, Jonathan Edwards, Emily Martin, and Honorata Defender prepare to canvass Selfridge. Photograph: Dan Koeck/Getty Images for The Guardian
Residents were being told to fill in their forms in blue ink: clerks at the county offices had rejected applications written in black and green. One Standing Rock resident, Dale Ramsey, had his application for a new ID rejected as he had previously listed an address outside the reservation on a separate document. (He had been homeless at the time and so registered at a shelter outside Standing Rock.) As it stood, he would not be able to vote.
The tribe were also concerned that two of the five polling stations inside the reservation would only be open from midday on election day – the other three will be open from 9am.
Volunteers were encouraging voters to cast their ballot early, at the county courthouse, by applying in person for an absentee ballot and handing it straight back with the vote cast. But the tiny offices there were burdened with other municipal duties too.
Out in the remote settlement town of Selfridge, 34-year-old Honorata Defender and three other volunteers were knocking on doors. On one dusty street, 81-year-old James Cowry opened the door, surprised to be receiving visitors.
He had lived in his home for three decades and had never known its formal address. The volunteers told him to call the local 911 coordinator, who would give him the information. But he had still not decided whether to vote.
"I don't feel for the candidates either way," he said.
Defender vowed to come back and drive him 30 miles down the road to pick up his ID card later in the week.
"Every vote should count," she said. "I'll do all that I can to help you."