Palestinian photos and films seized by Israeli troops have been gathering dust in the army and Defense Ministry archives until Dr. Rona Sela, a curator and art historian, exposed them. The material presents an alternative to the Zionist history that denied the Palestinians' existence here, she says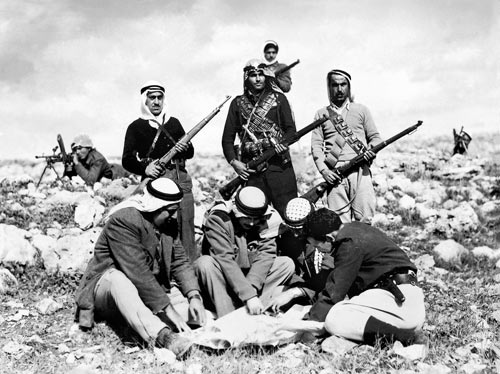 Abd al-Qadir al-Husayni studies maps with his aides, including Kassim Rimawi. Body guards and other fighters are behind them. Undated. Photo Chalil Rissas (Rassass)
The initial reaction is one of incredulity: Why is this material stored in the Israel Defense Forces and Defense Ministry Archive? The first item is labeled, in Hebrew, "The History of Palestine from 1919," the second, "Paintings by Children Who Go to School and Live in a Refugee Camp and Aspire to Return to Palestine." The third is, "Depiction of the IDF's Treatment and Harsh Handling of Palestinians in the Territories."
Of all places, these three reels of 16-mm film are housed in the central archive that documents Israel's military-security activities. It's situated in Tel Hashomer, near the army's National Induction Center, outside Tel Aviv.
The three items are barely a drop in an ocean of some 38,000 films, 2.7 million photographs, 96,000 audio recordings and 46,000 maps and aerial photos that have been gathered into the IDF Archive since 1948, by order of Israel's first prime minister and defense minister, David Ben-Gurion. However, a closer perusal shows that this particular "drop in the ocean" is subversive, exceptional and highly significant.
The footage in question is part of a collection – whose exact size and full details remain unknown – of "war booty films" seized by the IDF from Palestinian archives in raids over the years, though primarily in the 1982 Lebanon War.
Recently, however, following a persistent, protracted legal battle, the films confiscated in Lebanon, which had been gathering dust for decades – instead of being screened in cinematheques or other venues in Israel – have been rescued from oblivion, along with numerous still photos. The individual responsible for this development is Dr. Rona Sela, a curator and researcher of visual history at Tel Aviv University.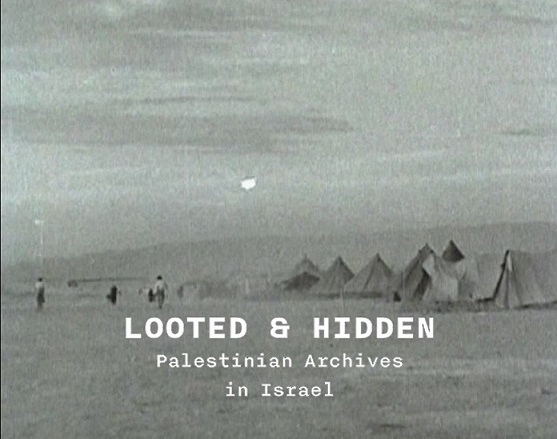 Subsequently she found hundreds of his photographs, accompanied by captions written by soldiers or Israeli archive staff who had tried to foist a Zionist narrative on them and disconnect them from their original context. The source of the photographs was a Jewish youth who received them from his father, an IDF officer who brought them back with him from the War of Independence as booty.


A march on King George Boulevard (now Jerusalem Boulevard) in Jaffa. The undated photo (likely taken in early 1948) was looted from the office of Al-Haj Ibrahim, Haifa. Unknown photographer / IDF and defense establishment archive / from the book 'Made Public'

---
Courtesy of
Ha'aretz
Source:
https://www.haaretz.com/israel-news/.premium-1.798565
Publication date of original article: 01/07/2017
URL of this page :
http://www.tlaxcala-int.org/article.asp?reference=22310